This morning, the U.S. Supreme Court found that Alabama Congressional maps adopted in 2021 violated the Voting Rights Act by diluting Black political power; the ruling is a major accomplishment by our friends at ACLU National, ACLU of Alabama and NAACP Legal Defense Fund.
Most importantly, it is a huge win for Black voters in Alabama and throughout the South. Despite past decisions that have weakened the Voting Rights Act, today's ruling maintains the legislation's ability to protect minorities from voting discrimination.
SCOTUS upheld lower Court decisions that found that the Alabama Legislature illegally packed Black voters into 1 Congressional district. In doing so, the State was effectively limiting the ability of Black voters, who make up 27% of Alabama's population, to elect a preferred candidate to only 1 of the State's 7 Congressional districts.
Today's decision affirmed the Voting Rights Act prevents States from packing or cracking Black communities in a way that limits their ability to have elect candidates of their choice.
This is exactly why the ACLU of MS is challenging Mississippi's recently enacted legislative districts and the decades-old State Supreme Court District lines.
With the release of the 2020 Census, it is clear that the new legislative districts prevent Black Mississippians from having appropriate representation in the Mississippi House and Senate. Instead of responding to the population shift between 2010 and 2020, the Mississippi Legislature adopted maps that further limit the ability of Black voters to send legislators of their choice to the Capitol. 
For instance, Senate map makers used racial gerrymandering to surgically and cynically pull Black voters out of Hattiesburg and Laurel to place them in a district based in Jasper County. As a result, most Black voters, who make up majorities in those towns, cannot vote for the state Senators that truly represent those communities.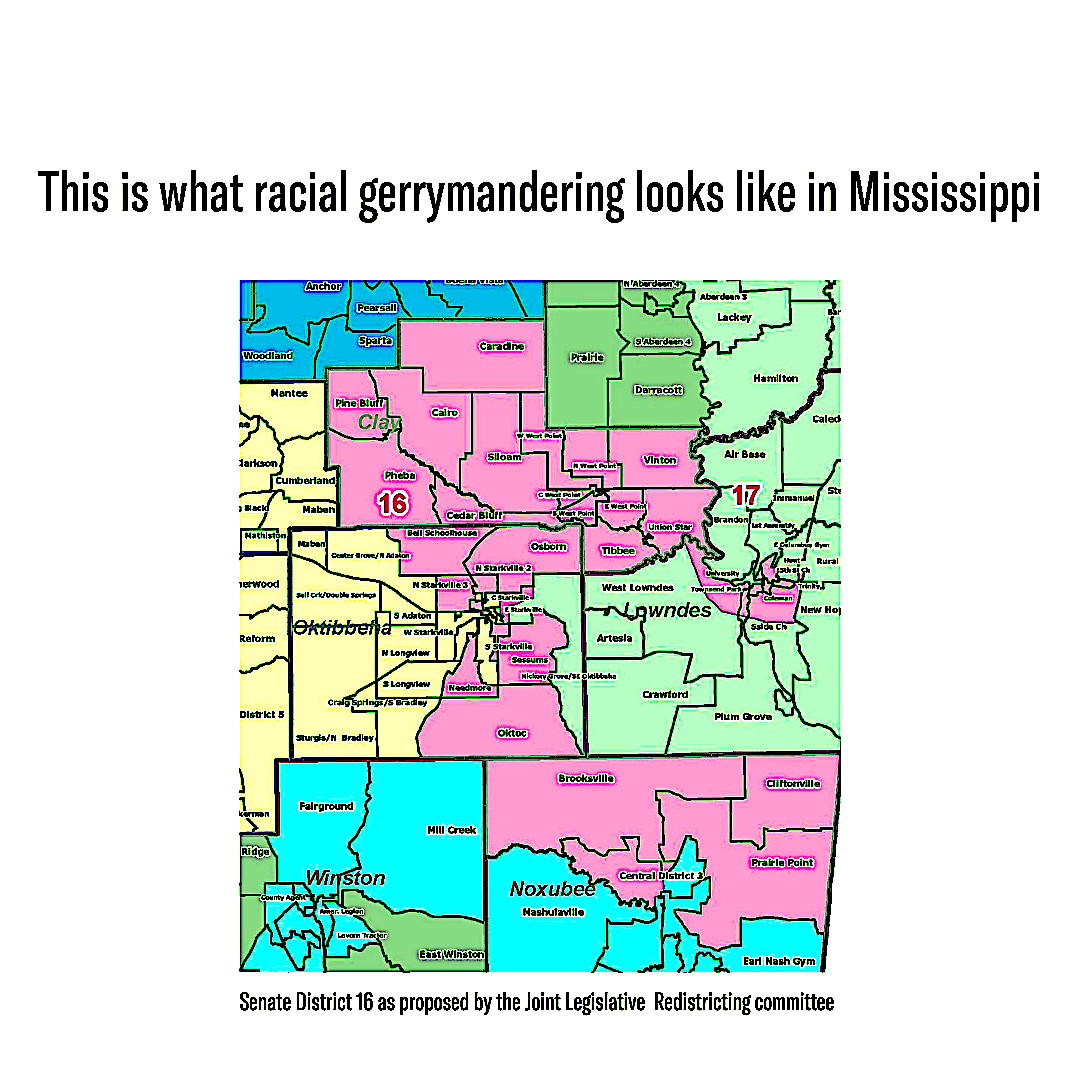 Despite years of population changes and shifts, Mississippi has not changed the district lines used to elect Justices to our State Supreme Court since the mid-1980s. Despite Mississippi's nearly 40% African American population, there has never been more than 1 Black Justice on the 9 member Court at one time. In fact, only four Black men—and zero Black women—have served on the Court. 
We can look at this just in terms of black and white. But it's really about accountability. These legislative districts leave Mississippians with both Republican and Democratic that are more concerned about primary challenges from their left or right than the median needs of their community.
In 2010, there were 12 House districts that resembled the state's demographics – 56% White and 44% minority. Today, there is only one district in that category. 
Mississippi voters give the current legislature low marks as a whole, and view the body as unresponsive to their needs.  A strong majority of Mississippi voters want an early voting period, expanded health insurance access through Medicaid, a medical marijuana program, and greater investments in roads and bridges. However, legislators have largely ignored these issues because they believe their district lines insulate them from any electoral repercussions.  Instead of Mississippi voters choosing their legislators, State Senators and Representatives are using redistricting to choose their own voters.