News
August 26, 2016
By Blake Feldman, Criminal Justice Advocacy Coordinator
This summer has demonstrated both the failure of Mississippi's legal system to hold police accountable and local communities' understandable mistrust of that system. This has never been unique to Mississippi. Black men and women have been fighting against this system for generations. In the summer of 1967, there were riots in Florida after police killed a black teenager by shooting him in the back. In August 1965, there were riots in Los Angeles over police brutality against two black men. The August before that, there were riots over police brutality against black residents in New Jersey.
In recent years, Americans have again taken to the streets to demand change – to demand our local and state leaders do something about police killing an average of three people per day. Because those who are shot, choked, beaten and broken to death are disproportionately black, and because these homicides are almost always met with impunity, there is a nationwide movement calling for a meaningful and diligent public policy response. While the names of Alton Sterling and Philando Castile have been printed, spoken and shouted across the country, we cannot ignore the urgency of the same crisis in Mississippi.
On July 4, 2016 – the day we celebrate our country and her greatest tenants of democracy and liberty – the print edition of the New York Times included a story with the headline: "Black Man's Shooting Recalls Southern Wounds." The story was about Antwun "Ronnie" Shumpert, a 37-year-old black man who was shot and killed by a Tupelo police officer after fleeing a traffic stop on June 18. On August 1, the district attorney presented the case to a secret grand jury, and the officer was cleared of any wrongdoing.
Those "Southern wounds" were ripped open this summer, but in many ways they were never healed. Rather, we were forced to acknowledge an unspeakable truth – police in American can still kill civilians for no good reason, and sometimes they do.
As has happened before and will happen again, a civilian pulled out his phone and showed the country what it didn't want to see. A thirty second video of Baton Rouge police officers tackling Alton Sterling, pinning his arms to the ground, and then shooting him in the chest several times shook the nation to its core.
The following evening, millions were watching a livestream video from St. Paul, Minnesota. We witnessed Philando Castile taking his last breath in front of his fiancée, Diamond, and her four-year-old daughter after a police officer shot him during a traffic stop.
Anyone unshaken by Castile dying before their eyes must have empathized with Diamond during her video. Surely after that, we couldn't ignore the cries for action to address the systemic use of force – particularly excessive and lethal use of force and the grossly disproportionate rate at which black bodies are on the receiving end of government-wielded guns, Tasers, nightsticks and boots.
Americans felt varying degrees of heartbreak and outrage, but beyond that, something so many desperately want to be false was again revealed as true. The phrase "black lives matter" – much like the American exceptionalism in political speeches, the words "Equal Justice Under Law" etched above our nation's highest court, and the final clause of our Pledge of Allegiance – is still an aspiration.
For how many generations can that aspiration be systemically neglected before it becomes a lie?
August 22, 2016
By Blake Feldman, Advocacy Coordinator
Published in the Clarion Ledger
On Aug. 5, Chicago police released body-camera footage from the incident in which police shot and killed Paul O'Neal, an unarmed black teenager as he fled. In recent years, including the last several weeks, Americans have been confronted with video footage of black men being shot and killed by police, but this summer has been different.
On the morning of July 7, I watched the video of Philando Castile dying in his vehicle after being shot during a traffic stop in St. Paul, Minnesota. Just hours after hearing his fiancée's pain and listening to her 4-year-old daughter console her as they were detained in the back of a police car, I met with a broadcast journalist in Mississippi to discuss people's rights during police encounters.
After I explained the importance of knowing our rights, I shared statistics I had memorized just before the interview. I told the reporter that 1,124 people had been killed by police between July 7, 2015 and July 7, 2016. I told him that 14 of them were killed by police in Mississippi. I told him that the next day, July 8, would mark one year since a police officer strangled Jonathan Sanders to death in Stonewall. As I removed my microphone and he disassembled his equipment, he told me he had never heard of Jonathan Sanders or Stonewall. That hit me like a ton of bricks.
A black man was chased and choked until his unarmed body lay lifeless on the side of the road in a rural Mississippi town — a town named after a Confederate general. Earlier this year, a secret Clarke County grand jury declined to indict the officer. Just as in decades prior when the families of two black boys hanged from the bridge used for mass lynchings in Clarke County, Jonathan Sanders' family was denied justice. His mother's cries for justice went unanswered, and I found myself before a journalist in Mississippi who had never even heard Ms. Sanders' cries.
I knew then that we had to do better and we had to do more. I knew we could never stop saying their names.
That night, however, several Dallas police officers were gunned down, and I knew saying their names — Jonathan Sanders, Ricky Ball and Ronnie Shumpert — would fall on deaf ears.
The unconscionable actions of two lone gunmen murdering eight police officers in other states would consume all of the air in the room for discussing the rift between law enforcement and the communities they police. Within hours, an influential crime reporter in our state tweeted a meme quoting the director of the Mississippi Law Enforcement Alliance for Peer Support. The first eight words, in all caps and highlighted, read, "I BEG THE PUBLIC TO STOP KILLING US." And just like that, the narrative was stolen.
No matter how many times white people say "all lives matter," the insurmountable, historical evidence and available statistics make clear that black lives are cut short by our government at a higher rate. This is the case from start to finish in the criminal justice system — whether caused by bullets to the chest of an unarmed black man during his 46th traffic stop because of his wide-set nose or caused by an experimental cocktail injected into the veins of a black man condemned because his crime of violence was borne by a white body rather than a black one.
On July 25, in a brief moment of her speech at the Democratic National Convention, our first lady respectfully validated the police and the protesters in Dallas. She said the protesters and the police shared the common goal of making the world safer for their children, and she stated, "That is the story of this country." As millions watched, Michelle Obama declared, "This right now is the greatest country on Earth." I got chills. I believed her.
The next day, we learned that no one would be held accountable for the homicide of Freddie Gray. We were reminded that a shared goal of making the world safer, nonetheless, exists in a world in which the legal response to the loss of black lives and the loss of "blue lives" are worlds apart.
Blake Feldman is the criminal justice advocacy coordinator for the ACLU of Mississippi. This is the first column in a two-part series concerning the broken police system and the need for reform. Part two will address proposed solutions.
August 15, 2016
Lee Rowland, Senior Staff Attorney, ACLU Speech, Privacy, and Technology Project
& Dennis Parker, Director, ACLU Racial Justice Program
On August 1st, Maryland resident Korryn Gaines began an armed standoff with police after they came to her apartment to serve a traffic warrant and she refused to let them in. And then she began recording the events and posting them online on Facebook and Instagram. Hours in, frustrated officers (who were not wearing body cameras) asked Facebook to turn off the switch to her accounts. And it did. And then officers shot and killed Gaines—leaving no digital record of her death.
Today we work, live and speak in a digital world. Mobile phones and Twitter have replaced megaphones and town greens. But something funny happens on the way to this (digital) forum: we must first step onto private property to make our voices heard. Before your voice is heard online, you must depend on a private company—usually, a social media platform—to faithfully publish your post.
Images on social media have enormous power. Which is why we need to ensure that private companies can't turn off the switch whenever they choose.
The current vitality of today's Black Lives Matter movement has in part been fueled by the onslaught of repeated, searing images of police shooting unarmed people of color. Feidin Santana shot the harrowing cell phone video of Walter Scott's killing by a Charleston police officer—and then connected with Black Lives Matter activists on social media to share the video. After Freddie Gray's death, activists in Baltimore stormed the streets—and documented their protests on Periscope (so successfully that mainstream media offered a guide to the best livestreams). The traumatizing videos of Alton Sterling's killing were posted and dissected by activists on Twitter. No viewer can forget the FacebookLive real-time video Lavish Reynolds of the shooting death of her boyfriend Philando Castile.
Adjectives cannot capture the horror of these videos or the sickening feeling that results from witnessing the routine killing of Black people by agents of the state. But in addition to being nauseating, tragic, appalling, and graphic, they are something else: indispensable.
These videos leave no plausible deniability about the reality of being policed while Black in America. For too long, Black people have had complaints of abusive policing dismissed as being paranoid and exaggerated. These videos have served as bitter affirmation of long-expressed concerns. This stream of visual proof has contributed to a new civil rights movement for the 21st century. Black Lives Matter activists have added their invaluable voices to the crusade for racial justice and police accountability, their activism powered by hashtags and livestreams. As a result, we have begun to see some glimmers of change in policing policy. For example, the DOJ just issued a scathing report about racial bias in Baltimore's policing, and announced a national initiative to track the number of killings at the hands of police.
In short, this revolution is in the televising.
Which is why the Korryn Gaines shooting should make us all stop and think about how it is televised. It is a stark reminder that each of the powerful images and videos that have lent fire to the movement for police accountability relied on a private company to make them public. Periscope, Facebook, Twitter, YouTube—you name it: They set the rules for publishing speech, and set norms for public debate. Social media companies enjoy power over our speech previously held only by government.
Unfortunately, they also censor a staggering amount of speech. The First Amendment generally does not constrain private companies as it does government, so our constitutional right of free speech offers little protection from digital censorship. And that matters.
In the Gaines case, it's not exactly clear why Facebook granted law enforcement's request: the company's justification for this kind of account shut-off appears to be lumped into the vague category of "emergency disclosures." Of course, shutting down an account is the opposite of disclosure. What if the officers who stopped and killed Philando Castile had made a request to shut down Ms. Reynolds' live-feed? The public would have been deprived of a video of immense public concern and impact. For just this reason, the ACLU has been at the forefront of securing the First Amendment right to record police engaged in their public duties. Indeed, the ACLU promotes our own "Mobile Justice App" to help civilian journalists exercise their constitutional right to document police encounters. Social media companies eager to cooperate with law enforcement requests should not be permitted to veto that right.
We must be active consumers, and demand at least three things from our social media platforms in exchange for choosing their services: transparency, consistency, and due process. Our Northern California affiliate has put together a phenomenal guide to help social media companies to get these balances just right.
Transparency. Companies must be very clear about what content they either turn over or take down at the request of law enforcement. As internet privacy activist Lauren Weinstein has written, customers deserve detailed, granular policies that put them on real notice about whether and when their speech can be silenced, hidden, or shared.
 
Consistency. Broad company policies that permit interpretation and ad hoc application mean that censorship decisions are political. If social media companies are more likely to grant content takedown requests from law enforcement, that becomes a statement of position in the police accountability debate.
 
Due process. You should have a right to know why your speech was censored—and to press an appeal if you think it's wrong.
These principles are not just vital for preserving the role of speech in assuring justice and accountability, they're good for the corporate bottom line. We all want a forum for our speech that doesn't have a secret mute button. And if and when a secret mute button is pushed, social media companies need to know that this will affect their business—and understand that they are choosing a political role, intentionally or not, in the campaign to document and publicize government abuse.
The Gaines situation can serve a clarion call to companies to prepare for exactly this kind of situation—specifically and transparently—so that they don't risk becoming glorified propaganda wings of the state.
###
August 12, 2016
A scathing report from the Justice Department's watchdog calls for "better oversight" of private prisons. That's not enough.
By Carl Takei, Attorney with the National Prison Project of the ACLU
On Thursday the U.S. Department of Justice inspector general released a 
scathing report
 on the Federal Bureau of Prisons' monitoring of "contract prisons," a shadow network of private, for-profit prisons that hold about 11 percent of the nation's 193,000 federal prisoners.
Though presented in a bureaucratic, flat style, the inspector general's findings are damning and outrageous. Sentence by sentence, the report shows how the bureau fails to impose basic standards of health, safety, and human decency on the private companies it pays to run these prisons. In one example, the inspector general recounts how a prisoner who told medical staff that he was having trouble breathing was refused immediate care and told to fill out a written request for an appointment. Untreated, he died. Afterward, the Bureau of Prisons conducted a mortality review that criticized this denial of care but did not propose any specific corrective action. As a result, the inspector general writes, "contractor deficiencies went uncorrected and corrective actions were delayed . . . putting other inmates at risk."
The inspector general's report recounts a litany of such potentially deadly "deficiencies" ranging from medical care, to violence, to the misuse of solitary confinement cells as overflow housing. The profit motive is an unstated but ever-present connecting thread. Using solitary confinement cells as overflow space, for example, was something that private prison wardens conceded was "not a good correctional practice," but which they engaged in because the company's contract with the bureau encouraged them to continue accepting new prisoners regardless of whether they had the space to house them humanely. Similarly, medical understaffing — such as one prison's decision to go without a full-time physician for eight months — seems to persist because it is cheaper for the private prison company to pay penalties for understaffing than to provide adequate medical staff.
The inspector general also reports that the private prisons experience nine times as many lockdowns as bureau-run prisons and significantly higher levels of violence than bureau-run prisons. When given a chance to respond to these findings, the private prison companies insisted that the security issues resulted from the bureau's decision to concentrate a predominantly Mexican population in these private prisons.
But this is a red herring.
At least two 
previous
studies
 have concluded that, nationwide, private prisons tend to have higher levels of violence than comparable public prisons — even those that don't hold many Mexicans. Indeed, the prisons examined by the inspector general's report ought to be easier — not harder — for the companies to manage than the average federal prison. Dubbed "Criminal Alien Requirement" or CAR prisons, they hold non-U.S. citizens who are overwhelmingly serving sentences either for non-violent drug offenses or for reentering the country after deportation and whom the bureau has classified as low security risks.
To prevent these abuses, the inspector general issued a series of recommendations to the bureau to develop better monitoring of its private prison contractors and to convene an internal working group to examine why the private prisons perform worse than their publicly run counterparts. The bureau did not object to the recommendations; they are both sensible and necessary steps, if one assumes that the bureau will continue to rely on private prisons. However, they avoid confronting the larger question of whether it makes sense to continue the federal government's multi-decade experiment with prison privatization.
Even public prisons are secretive, unaccountable institutions that tend to resist reform. Citizen observation and activism (exemplified by the use of cell phone videos to build momentum for police reform) are next to impossible in a place whose very purpose is to assert total state control over the bodies of the people inside it. But when a for-profit company takes over the institution, this inherently closed nature shields the activities of an entity whose primary duty is to deliver value to its shareholders. The conflict between that profit motive and the legitimate goals of government forces a constant arms race between the contractors (who must seek new, creative ways to maximize their profits) and their government overseers (who must ensure the government is actually getting what it paid for). The inspector general's recommendations are the latest step in that arms race.
But this is a wholly unnecessary arms race, because there is nothing inevitable about the decision to hand control of prisons over to for-profit companies. The Corrections Corporation of America only created the modern idea of a private prison in 1983, when its founders used their political connections to secure a contract with federal officials and 
hastily converted a Houston motel into an immigration detention center
.
Today's federal officials should reconsider their reliance on this inherently problematic industry. Indeed, earlier this year, the bipartisan Charles Colson Task Force on Federal Corrections 
specifically contemplated
 that federal sentencing reform efforts would enable the bureau to begin cancelling its private prison contracts. The inspector general's findings, along with other 
recent
reports
 and 
exposes
, should spur officials to cancel these contracts rather than accept the human and fiscal costs of this continued arms race.
August 10, 2016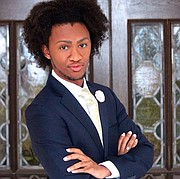 I am black, Christian, genderqueer and gay. I chose to be neither the former, nor the latter; it is a gift. None of my identities contradicts the other, despite which agenda society is currently pushing.
I am often faced with the decision of which oppression to overcome first. What good is it to have the ability to marry the person of my choosing if we are more likely to be incarcerated than our white counterparts? Is it really progression to be protected as an African American if I am not protected as a gay American? Although the answers to these questions may lie at the end of pi, they are ever-present in the lives of double or triple minorities.
As a self-proclaimed advocate, I often ask myself which I fight for first. Which of my minorities is more important? In order to efficiently dissect this unfair but realistic question, I must look back to Maslow's Hierarchy of Needs. I need to be safe first as a black, gay, genderqueer man. So, please pardon me if I am more passionate about the reformation and regulation of policing and the criminal-justice system than I am about marriage equality for all. I think it is tasty ear sugar to say that African Americans are equal, but the incarceration rates and diminishing strength of affirmative action shows otherwise. Is it acceptable to highlight one minority's struggle for a comparable quality of life while another minority is being lawfully enslaved at alarming rates?
To be clear, all injustice must cease. However, as a black man, I honestly feel slighted that one of the most privileged populations found one way they are not privileged, and that "struggle" supersedes the headlines of police killing African Americans with little recourse. Because of my rearing, the thought of marriage manifests after I am safe, educated, employed and have some form of wealth. Each of those steps is a struggle for people who look like me. Consequently, progression that seemingly affects the same gender-loving individuals equally does not do so in reality. The quality of life means nothing to a corpse.
It is important to note that while I understand the multiple means of oppression as a black, gay, Christian, genderqueer man, I also understand the slight privilege I have. There is a population that has been enslaved by her captor, raped by her owner, hypersexualized by her rapist, robbed of her offspring by economics, helped by her oppressor, handicapped by her helper and beaten by everyone. When will she see equality?
No inequality should exist. There should be no conversation about who is oppressed more or who should be liberated first. In reality, however, it feels as if only one stride can be made at a time. It is painful to be picked last for the team when the team means equality.
Ryvell D. Fitzpatrick is the legal intern for the ACLU of Mississippi and a student at the Howard University School of Law.
August 05, 2016
The ACLU of Mississippi is offering a FREE CLE on Ethics and Professionalism on Friday, September 16, 2016 at the Mississippi College School of Law from 1 p.m. to 3 p.m. CLE Credits include 2 hours total of ethics. Featured speaker will be criminal justice advocate and author Shaka Senghor on ways to curb the prison population in the U.S. There is no cost to participate. To register, please send an email to office@aclu-ms.org. For more information, call 601-354-3408. A VIP Reception and Book Signing of Mr. Senghor'sWriting My Wrongs will  take place at 5:30 p.m. at the Parlor Market event space in downtown Jackson. There is no cost to attend, but book purchase is separate.
August 05, 2016
The following can be attributed to Jennifer Riley-Collins, Executive Director of the American Civil Liberties Union of Mississippi: 
"This week, Lee County District Attorney John Weddle announced, during a press conference, that a grand jury has cleared Tupelo police officer Tyler Cook of any criminal wrongdoing in the June 18 fatal shooting of Antwun 'Ronnie' Shumpert. The DA also revealed that the Mississippi Bureau of Investigation had conducted an independent investigation. We call for complete transparency in this matter and demand that the MBI report be released to the public expeditiously. 
"Far too many Black men die every year in police encounters, and many more are seriously injured. People of color are disproportionately affected by excessive use of force at the hands of the police. 
"The ACLU of MS joins with the people of Tupelo who demand answers and who want to know that there will be justice for Antwun Shumpert. We join with the people of Tupelo who believe that justice for those who have been harmed at the hands of police has been all but nonexistent in our state and across this nation, and that this failure has been a root cause of the lack of trust in police. 
"Our systems of justice are far more willing to treat officers as innocent until proven guilty than they are the communities who are being policed -- communities where people are presumed guilty and stopped, searched and arrested without cause. The ACLU of MS will continue to work for the reforms needed to end this double standard, as we have before, as the inquiry into Mr. Shumpert's death continues. In the spirit of ending that double standard, we all need to know soon: When will the Shumpert family receive justice?"
###
August 05, 2016
If the government can take away rights from one person, it can take rights away from anyone.
After receiving a complaint form a Ku Klux Klan member about threats made by Rankin County Sheriff to charge KKK members with littering for distribution of flyers,  the ACLU of Mississippi took action to defend the group's First Amendment Right to free speech.
See the warning letter here.
The ACLU's mission is defend the Bill of Rights - even it means defending an organization or individual whose message we despise. Our Bill of Rights and our laws should apply equally to all those living in the United States.
Free speech is for everyone. The First Amendment protects your right to express your opinion, even if it's unpopular.
August 02, 2016
In May of 2016, twelve men were arrested, jailed, and charged with felonies under a Mississippi Employment Protection Act (MEPA) provision that makes it a felony to work while undocumented.  The crime carries a punishment of up to five years in prison and a $10,000 fine.  On June 29, 2016, Nathan H. Elmore of Elmore & Peterson successfully obtained dismissals of all MEPA charges against their clients. 
The ACLU and ACLU of Mississippi were proud to provide support to argue the unconstitutionality of the MEPA charge.  Elmore & Peters reports that their clients are currently out of jail and reunited with their loved ones. 
The ACLU of Mississippi is committed to ensuring that this MEPA provision—which unconstitutionally criminalizes immigration status—is never enforced again.  It is preempted by federal immigration law and therefore violates the Supremacy Clause of the U.S. Constitution.
August 02, 2016
Students who have disabilities and belong to racial minorities are more likely to be subject to this type of abuse, which is a violation of their right to nondiscrimination in education.
Our students deserve better. That's why we will continue to push forward our advocacy and legislative efforts to protect against the disproportionate use of restraint and the prohibition of seclusion to keep all children safe.
In the meantime, here are "Ten Action Steps for Parents/Guardians" you can do to protect your children inside the classroom.
Download our "Ten Action steps for Parents/Guardian" here.