Polling shows 83% of Mississippi voters oppose criminal investigations or charges against women suspected of having an abortion
FOR IMMEDIATE RELEASE
JACKSON, Miss. — A new poll conducted by Blueprint Polling on behalf of the American Civil Liberties Union of Mississippi (ACLU-MS) shows that a majority of Mississippi voters oppose the Supreme Court's decision in Dobbs v. Jackson Women's Health Organization to overturn Roe V. Wade.
Blueprint Polling surveyed 872 likely Mississippi votes between June 28, 2022, and July 6, 2022, using live agents to record responses. The margin of error is +/- 3.3%. Blueprint Polling weighted the results to reflect the age, race, and gender of the likely general election turnout.
The results are as follows:
The average Mississippian's view on abortion is not as clear-cut as some state lawmakers paint in their remarks. A slight majority of Mississippians actually disagree with the Supreme Court's decision to overturn Roe v. Wade (51% oppose and 42 % support). In fact, only 18% of Mississippi voters want abortion to be illegal in all cases.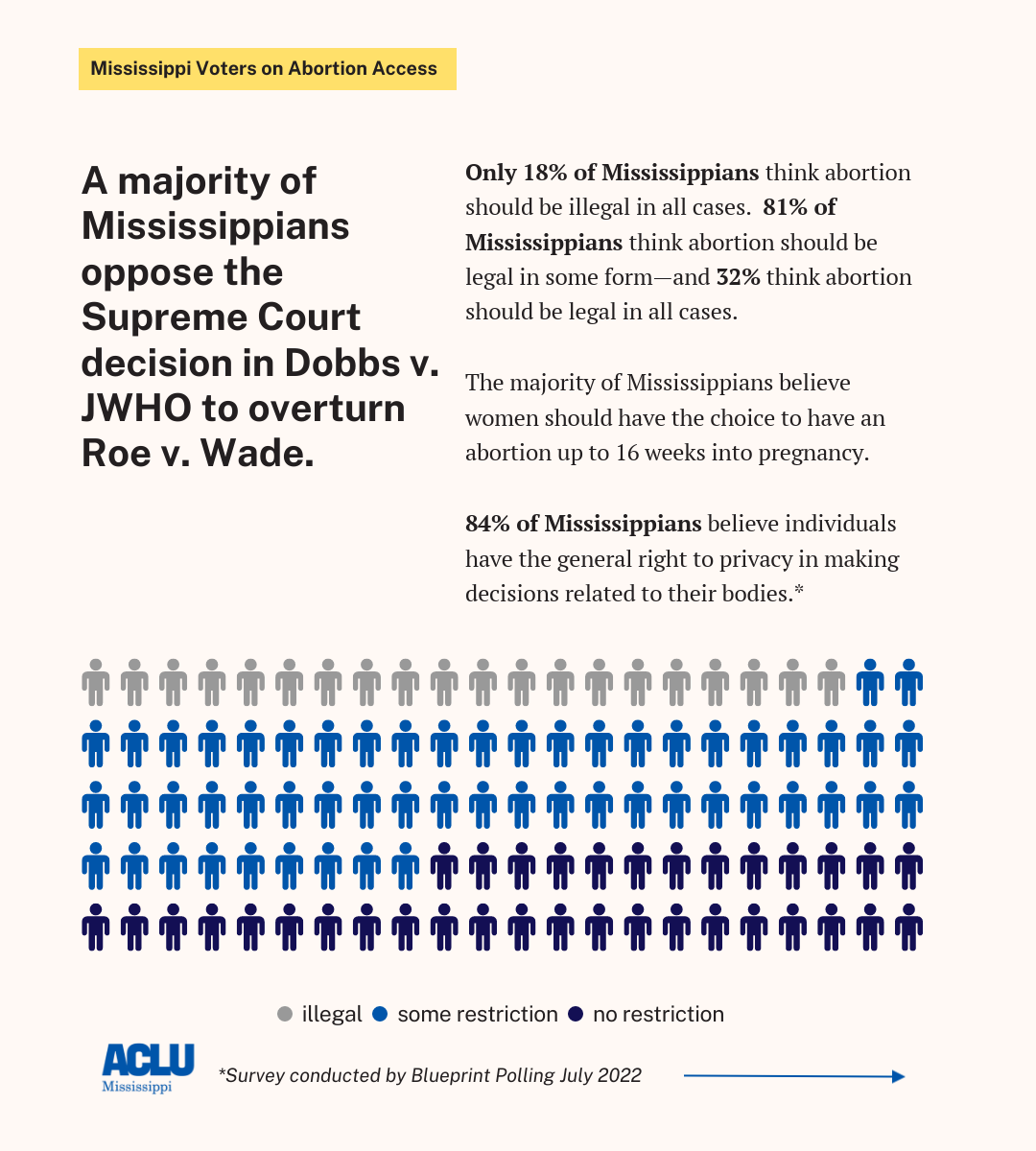 However, there is a divide between men's and women's views of the Court's ruling in Dobbs.  Men support the decision by 48% to 44% (+4), while Mississippi women object to overturning Roe by 56% to 37% (-19).
The vast majority of Mississippians (83%) oppose criminal prosecutions or investigations of women for possibly having an abortion.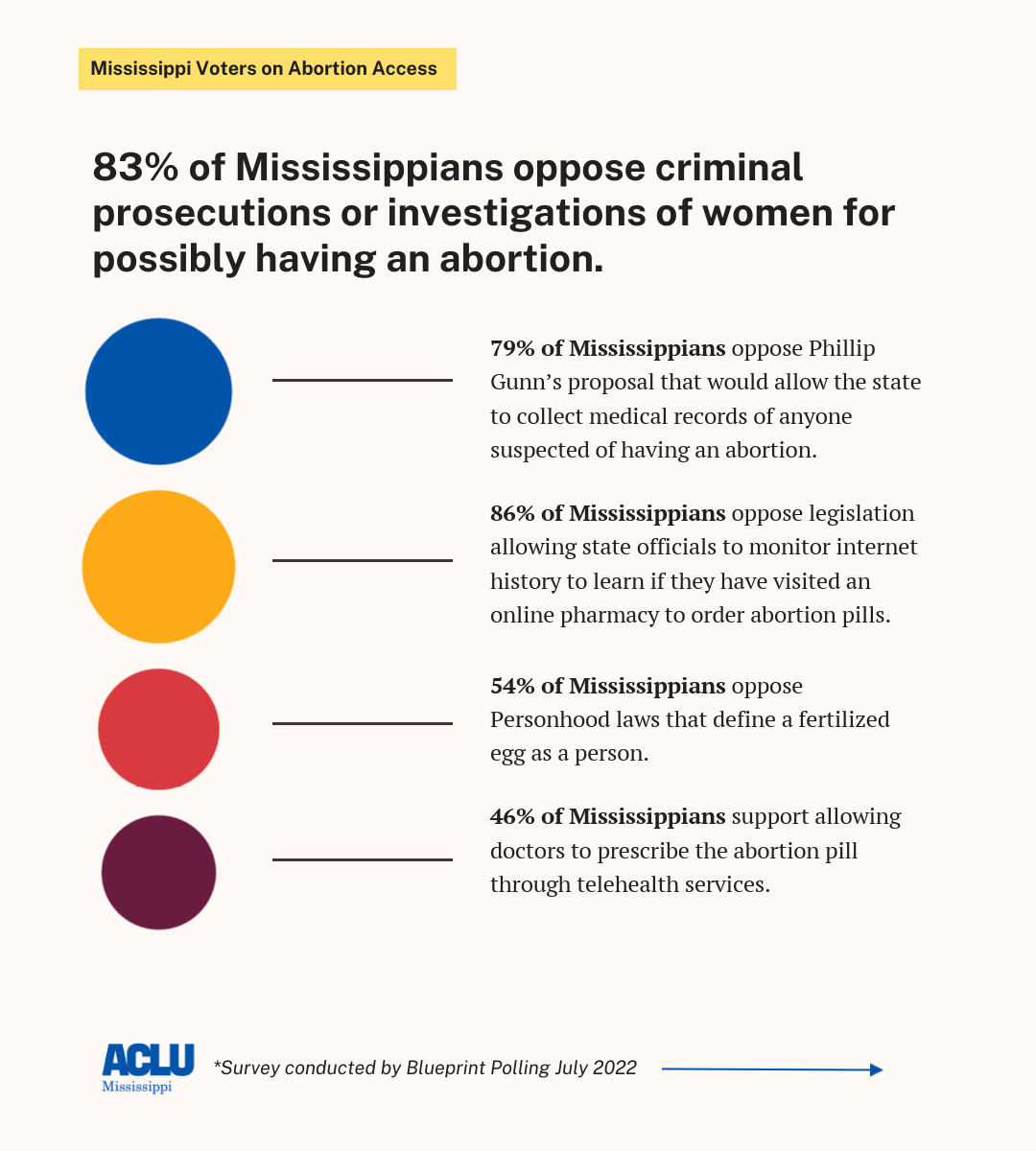 "Mississippians no longer have access to abortion care, forcing people to carry a pregnancy against their will or travel hundreds of miles to access the essential care they need," said Vara Lyons, Policy Counsel at ACLU of Mississippi. "It's clear that many of our voters' are not being represented the way they want to be represented. Our zip code should not reflect our access to abortion."
Regarding specific legislative proposals, 79% of Mississippians oppose Speaker Phillip Gunn's proposal to allow the state to collect medical records, including menstrual cycle dates and internet browsing history of anyone suspected of having an abortion.
Even higher, 86% of Mississippians oppose legislation allowing state officials or the police to monitor a woman's internet history to learn if she has visited an online pharmacy to order abortion pills.
Mississippians also want their lawmakers to take an actual conservative approach to contraception. A great majority of Mississippians, 71%, do not view emergency contraception, such as IUDs and Plan B, as methods of abortion.
"It is evident that Mississippi voters do not want the Legislature to further involve itself in regulating women's bodies," said Jarvis Dortch, Executive Director at ACLU of Mississippi. "Until now, the fight about outlawing abortion was a messaging or political game. Now, the Supreme Court has made this a real issue. We expect Mississippi legislators, mostly men, to take up bills that allow police to intrude greatly into the personal lives and health of women. This is no longer a game."
Instead of passing more abortion bills, Mississippi voters support laws that improve mothers' and children's access to healthcare.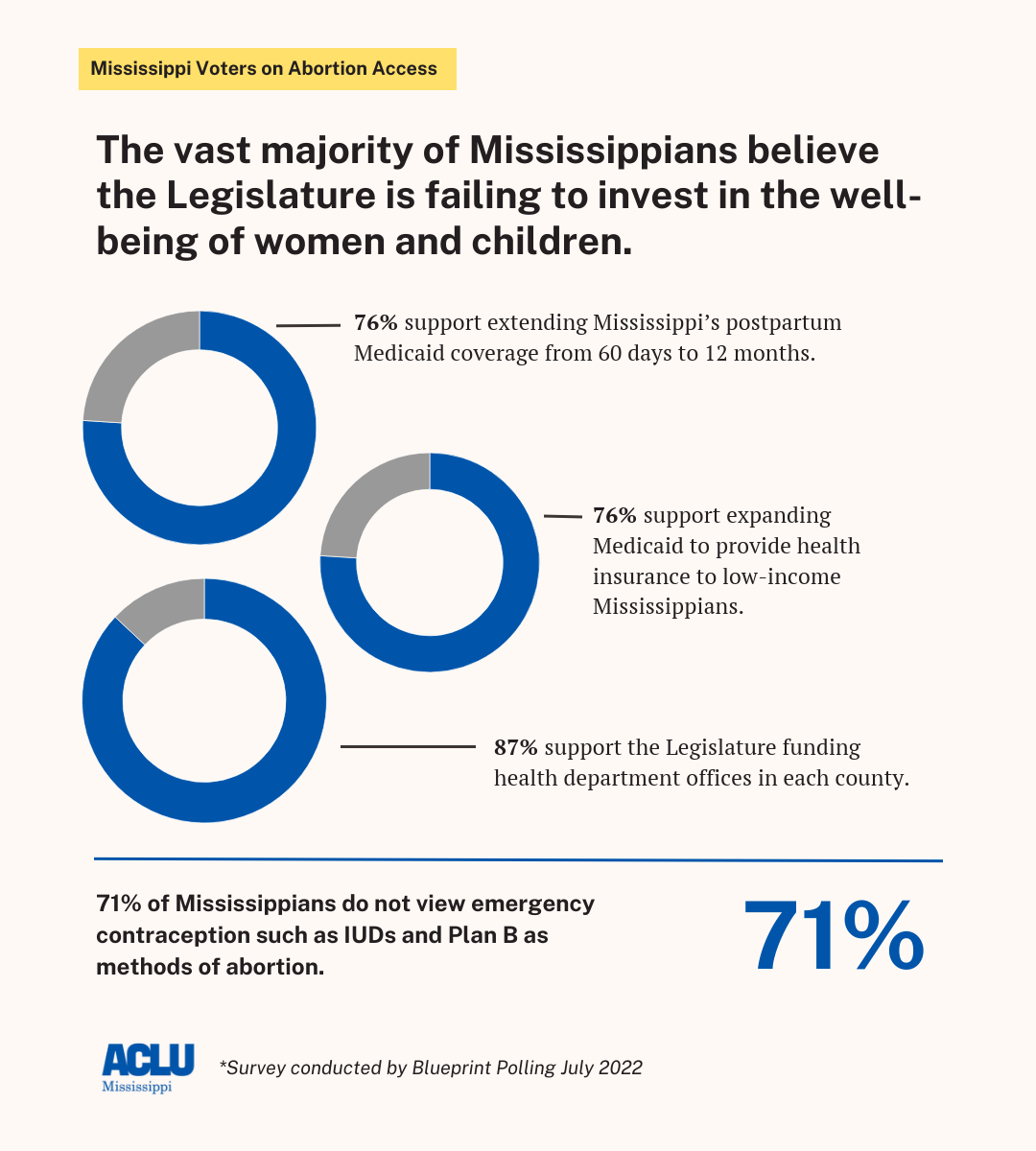 Respondents strongly support expanding Medicaid (76%), and two-thirds of white voters agree. Additionally, support for Medicaid expansion crosses party lines, with 59% of Republicans backing the policy to provide health insurance to low-income Mississippians.
Despite Speaker Gunn preventing a vote on the issue, voters strongly approve of expanding postpartum health care coverage (76% to 20%). Strikingly, 59.2% of Republicans support extending postpartum coverage and 59.7% support full Medicaid expansion.
###
Blueprint Polling
Blueprint Polling is a sister company to Chism Strategies that conducts survey research in federal, state, and local elections. Blueprint conducted this research on behalf of the ACLU of Mississippi. For more information call Brad Chism at 601.918.4563.