News
April 28, 2016
Published in The New York Times via Reuters
WASHINGTON — Longer prison sentences for non-violent criminals and crowded prisons are hurting the American economy more than they are helping it, economists in U.S. President Barack Obama's administration said in a report released on Saturday.
The prison population in the United States is 4.5 times larger than it was in 1980, primarily driven by longer sentences and higher conviction rates for nearly all offenses, according to the Council's report.
Economists are "of one mind" that packed prisons, excessively long sentences, and insufficient reentry programs "are counter-productive to our economy as a whole in addition to hurting the people involved," Jason Furman, chairman of the White House Council of Economic Advisers, told reporters in a call on Friday.
On Monday, administration officials, economists, business leaders, and scholars will discuss the Council's findings at an event hosted by the White House, the American Enterprise Institute think tank, and New York University's Brennan Center for Justice.
The United States can reap greater economic benefit through investments in police, prisoner education, and job opportunities for ex-prisoners than it can from putting additional funding toward prisons, the Council's report said.
The Council's report was based on a review of existing economics research, and does not estimate the indirect costs borne by the U.S. economy as a result of its current criminal justice policies.
Later this year, the Brennan Center will unveil a study quantifying how much the U.S. criminal justice system costs Americans in terms of employment, wages, and gross domestic product, said the center's director of justice programs, Inimai Chettiar.
Previous administrations have not brought the same focus to how criminal justice policies affect the U.S. workforce, said Douglas Holtz-Eakin, who led the Congressional Budget Office from 2003-05 and is now president of the American Action Forum think tank.
Since the recession of the late 2000s, "every aspect of the workforce has been scrutinized more closely, and this sort of popped out," he told Reuters.
(Reporting by Julia Harte; Editing by Sandra Maler)
April 25, 2016
Published in the Jackson Advocate.
April 21, 2016
Download this statement here.
The ACLU of Mississippi urges Governor Bryant to veto Senate Bill 2237! This bill is contrary to governmental transparency and speeds up the legally flawed and morally bankrupt process of ending prisoners' lives.  
The death penalty is the most absolute and extreme punishment available. Secret executions are unacceptable. We oppose the death penalty altogether. However, as long as Mississippi continues to sentence people to death, executions must remain transparent and our state government must remain accountable.  
For 123 years, Mississippi executed people by hanging, followed by 14 years of electrocution and 45 years by gas chamber. Some states have turned to experimental drug combinations.  Botched executions in Oklahoma, Arizona, and Ohio in 2014 have proven that drug and supplier information is essential.  The public has a right to know this basic information under the First Amendment.
Today, 47 men at Parchman and one woman at Central Mississippi Correctional Facility are awaiting execution. The state of Mississippi should not shield companies doing business in this state from public scrutiny. Instead of advocating for the suppression of free speech, our state government should focus on making sure our criminal justice system ensures fairness and accuracy, so that Mississippi is never accused of executing an innocent person.
 ###
April 21, 2016
By Todd Allen, Equality Advocacy Coordinator
Last week, a friend visited me from New York City. He enjoyed a po' boy sandwich and some blues at Hal & Mal's. We gave him the standard tour through Jackson and took him out to see the Ross Barnett Reservoir. However, on Friday afternoon as he stepped out of the King Edward Hotel wearing a particularly colorful pair of pants, a group of businessmen snickered at him and said, "Doesn't he know that 'that' is illegal now?" These guys, on the street, understood what the governor intended to communicate when he signed House Bill 1523 into law. Our state leader helped to make harassment and discrimination against LGBT Mississippians more acceptable.
The most recent anti-LGBT legislation consists of convoluted language aimed at giving freedom to those who discriminate. All the strange talk of "protection from government discrimination" only serves to cover up the real effects this law will have on the community. This upside-down law protects those who discriminate against people who are seeking a legal marriage instead of protecting LGBT people from discrimination. HB 1523 fails to recognize diversity and succeeds at promoting exclusion.
I am most concerned about the impact this law will have on "everyday" people. How will children treat each other in the school yard? I am not hopeful they will be more kind and more understanding toward each other as a result of this law. Those in power chose to legitimize antagonism toward LGBT people. Will more Mississippians think they should see gay people as a threat to religious people? This law suggests gay people in church should either stop being gay or stop going to church. Will more people say transgender people are "just faking it?" Those Mississippians who think lesbian mothers are not able to raise healthy children have received praise for their prejudice from these anti-LGBT politicians.
Every believer has the freedom to judge whether one partnership arrangement is better than another arrangement. This type of judgement is protected by the U.S. Constitution when that decision comes from the religious community. However, the Supreme Court decision made it clear we cannot use state power to enforce our particular religious opinion of marriage. Both the choice of one's partner and the choice of one's church are equally protected by the U.S. Constitution. The negative impact in our community has begun, and a nationwide boycott of Mississippi is emerging. We must repeal HB 1523. Any law that classifies straight above gay, men ahead of women or white over black is discriminatory. We can do better than this because "We are all Mississippi."
The "We are ALL Mississippi" campaign is a coalition of more than 25 faith-based and nonprofit organizations that are united to work toward the passage of a statewide, comprehensive, anti-discrimination law called the Mississippi Civil Rights Act. Together, we must combat persistent forms of racism, sexism, homophobia and transphobia in Mississippi. We call on leaders at all levels of government to enact and implement nondiscriminatory policies. When Mississippi brings down the Confederate flag, we must also disassemble all of the racial, religious and patriarchal oppression that flag glorifies. True hospitality means real equality.
April 13, 2016
House Bill 1523 is unique in its scope and breadth.  No other state allows such wide-ranging discrimination against same-sex couples, transgender people, single parents, and all unmarried people regardless of sexual orientation or gender identity. 
Click here to see what HB 1523 does in terms of allowing wide-ranging discrimination.
April 13, 2016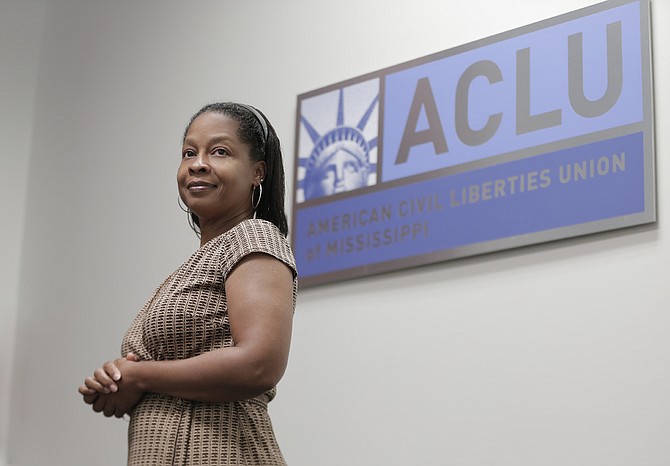 René Hardwick says seclusion of students is "not just time out." Photo by Imani Khayyam.
JACKSON — CANTON—Volance Sanders' 13-year-old son was in his language-arts class at Nichols Middle School in the Canton Public School District where, he said, another boy kept hitting him. The boy appealed to his teacher for help, but he said the teacher dismissed his complaints, brushing off the other student's actions. So the boy kept hitting him.
Finally, Sanders' son had enough. He stood up, coming face-to-face with the other boy. That's when former Nichols Middle School principal Brent Ward came in—and allegedly the situation escalated.
"From the classroom, he held me in a headlock all the way to his office, and then when we got to the office, he tried to force me in the chair, and I didn't sit down," the boy said in a 16 WAPT interview in January. "So he tried to grab my legs, and he threw me on the floor and put his knee on my back."
Sanders says the force Ward used to restrain his son was unnecessary. His son, barely 4 feet tall, and only 60 pounds, wasn't fighting, but Ward says that the story previously reported to the media isn't accurate. He says that on arrival in the classroom, he saw the boys were playing but he did not put Sanders' son in a headlock and that he did not mistreat the boy in any way.
"As you know, playing can sometimes turn a little more serious," Ward said. "I was in compliance with district and MDE protocol and policies.
No Uniform Policy
Until recently, however, the Mississippi Department of Education did not have a uniform policy regulating when and how public-school employees should put their hands on people's children.
The Mississippi Board of Education released an updated restraint and seclusion policy this month that inaugurates more stringent regulations for when adults working in public schools can use force in order to handle student behavioral issues.
Other groups, including the ACLU of Mississippi, the Special Education Advisory Council, Parents for Public Education, Mississippi School Boards Association and the MDE Special Education staff met with the Mississippi Board of Education in order to help remold the policy after the first draft became available last April. The updated restraint-and-seclusion policy emphasizes the data-driven Positive Behavior Interventions and Supports approach, which establishes a school-wide social culture that prioritizes behavioral support.
Rene Hardwick, advocacy coordinator at the American Civil Liberties Union of Mississippi, says these guidelines are important for the safety of children, particularly those disproportionately affected by restraint and seclusion policies, such as disabled or traumatized students and students of color. With these guidelines, she says, hopefully restraint and seclusion would not serve as the first response to deescalating behavioral issues inside the classroom.
"You begin with establishing a positive behavioral approach," Dr. Carey Wright, state superintendent of education, said at the March Board of Education meeting.
"It's not a restraint-and-seclusion policy to teach adults how to restrain and seclude children. Restraint and seclusion is to be used as a last resort."
Hardwick says the ACLU feared further discrimination against traumatized children and children with IEPs—the individual education plans assigned to students in exceptional-education programs. So the group wanted to remove mention of IEPs from the new policy altogether, although the policy still mentions it.
"The consensus was that by merely mentioning it, it took a discriminatory stance in that it was pointing out children with disabilities in this policy, and this policy is for all children, not just children with disabilities," Hardwick said.
"Two of the recommendations that the ACLU of Mississippi put into its public comments and also recommended as an expansion was the exclusion of restraint and seclusion within the IEP, the BIP (behavior intervention plan), and the 504 plan, as a plan to prevention."
A 504 plan is similar to an IEP, except that Section 504 of the Rehabilitation Act establishes 504 plans, and the Individuals with Disabilities Education Act outlines the use of IEPs. Students with 504 plans may not receive specialized instruction like students with IEPs do, but still receive certain special accommodations despite spending most of the school day in their general classrooms.
Hardwick says she'll try again to have mention of these strategies stricken. "It is being used as an escape hatch to give school personnel permission to use it if a child has an IEP," she explained.
Seclusion Needs to Go
Hardwick also says that the ACLU is pushing for the removal of seclusion altogether as an option.
"If we could completely prohibit seclusion, that's just a whole unnecessary piece of the puzzle that would save money that could be put in training, could definitely prevent severe injuries and in some cases death. What purpose does it truly serve? It isn't time out," Hardwick explained.
"Restraint is enough to deal with. The issue of prevention is not just about employing preventative measures solely for the prevention of restraint and seclusion, but employing these preventative and positive measures to increase and enhance academic achievement. So if you do this properly, there are far-reaching implications for school and learning environments as a whole. It's a win-win situation," Hardwick said.
"Everyone who's involved in educating children plays a role," Hardwick added. If children are to take ownership, then why won't the other parts of that puzzle take equal if not more ownership? 
 "They're supposed to be professionals, they're supposed to be adults, and our job as professionals and adults is to protect children. At the very least."
Sierra Mannie is an education reporting fellow for the Jackson Free Press and The Hechinger Report. 
For more information on restraint and seclusion, please visit keepstudentssafems.org. 
April 13, 2016
Dear Supporter,
The Mississippi Legislature and Governor Phil Bryant have set Mississippi back to an era that treated some citizens as "less than" with the passage and signing of House Bill 1523 — the so-called Protecting Freedom of Conscience for Government Discrimination Act.
In Gov. Bryant's statement following his signing of the bill, he said that the legislation prevents government interference in the lives of people. In fact,HB1523 promotes government interference by sanctioning discrimination and attacking the liberty and freedom of citizens throughout the state.
HB1523 doesn't just affect members of the LGBT community, but hurts so many people across the state. Here are just a few examples of what HB1523 will do:
- Single mothers or fathers can be turned away by a homeless shelter.
- A school counselor can refuse to counsel a pregnant teen.
- Families will suffer because they were denied necessary health care, fired from their jobs, or treated unfairly and will have no redress for it.
The ACLU of Mississippi is your Defender of Freedom, and we will remain on the frontlines and respond to any incidents of discrimination. As we continue to closely examine our next steps, here are a few things you can do to show your opposition to this deplorable legislation:
- Contact us with any complaints if you experience discrimination as a result of this law.
- Share your story to show that We Are All Mississippi and we won't take this legislation lying down. Use #WeAreAllMS and visit us on Facebook, Twitter, and Instagram.
- Host a Town Hall in your community and invite us to take part!
- Become a card-carrying member of the ACLU of Mississippi or make a donation.
- Stand with us as a volunteer.
Mississippi has returned to the "good ole boy days" and is again cloaked in a reputation of hate. The mounting fallout includes bans on official business travel to Mississippi by Vermont, Washington, New York, Minnesota, and the District of Columbia. Several businesses, like Levi's, AT&T, IBM, and others, have also taken a stand against the bill.
Eddie Outlaw, an ACLU of Mississippi board member and small business owner, issued this statement:
William Wallace Salon and Fondren Barber Shop believe that any legislation that encourages discrimination for any reason is damaging to our state and goes against the idea that all people are created equal. We are in business to serve the citizens of greater Metro Jackson and central Mississippi and treat each client with the respect and dignity that we and our talented team of stylists and barbers expect from them. There is no place for hate in our state.
Take a stand against hate in our state! We are all Mississippi!
In solidarity,
April 11, 2016
Mississippi passes anti-equality law while ignoring its dismal education system
By Liz Willen, Hechinger Report
Kindergartners who can't hold pencils or identify colors. Outdated textbooks in dimly lit, crumbling classrooms. Broken bathroom stalls with missing doors. Ill-equipped science labs and understaffed childcare centers.
These are some of the education woes journalists from The Hechinger Report have encountered in Mississippi, the poorest and worst educated state in the country.
We've visited crowded and crumbling classrooms in Canton and on the coast, along with daycare programs that endanger children's welfare in the Delta. We've reported on potential solutions as well, including a failed initiative last fall that would have strengthened funding for the state's lagging public schools.
Through it all, despite repeated requests, we've heard little from Republican Gov. Phil Bryant and his office on our reporting for both local and national publications, even after an extensive series in collaboration with the Clarion-Ledger uncovered weak oversight and egregious violations and complaints about daycare conditions – all from the state's records.
Instead, Bryant has had plenty to say this week on an issue that's apparently nearer and dearer to his heart than education. He's making national headlines after signing a far-reaching "religious freedom,'' bill into law, defending it as a way of protecting people's rights to "deeply held religious beliefs.''
---
"Governor Bryant turned back the clock to a dark time in Mississippi's past."
Wade Henderson, president and CEO of the Leadership Conference on Civil and Human Rights
---
Far from being about worship, the law allows private groups and even some private businesses to refuse service to gay, bisexual and transgender people. It has drawn a firestorm of criticism, and major employers have argued against it, whileMississippi Manufacturers Association urged Bryant to veto it.
Jennifer Riley-Collins, executive director of the American Civil Liberties Union of Mississippi, issued a statement calling it "an attack on the citizens of our state,'' adding that the bill will serve as "The Magnolia State's badge of shame.''
Mississippi's education advocates are irked that the state's 64thgovernor believes protecting "religious beliefs,'' matters more than making sure some 490,000 students statewide get the resources and the quality education they need.
"I predict this mean-spirited, legally questionable legislation will backfire against its proponents,'' said Dick Molpus, a former Democratic secretary of state and co-founder of Parents for Public Schools.
Molpus believes the bill will lead to "mobilizing a legion of Mississippi citizens who want to focus on the real enemy of being 50th in educational attainment and health care.''
---
Republican Gov. Phil Bryant, right, walks past reporters on his way to a meeting of a youth jobs program board, at the Capitol in Jackson, Miss., Friday, April 1, 2016. Photo: AP Photo/Rogelio V. Solis
---
Others say it could contribute to an exodus: some 25,000 residents have already left Mississippi since 2010, according to Jake McGraw, public policy coordinator at the William Winter Institute and editor of Rethink Mississippi.
The reasons include the state's troubled school system, a lack of jobs and a feeling among residents that they are "socially unwelcome and politically unrepresented,'' McGraw wrote recently.
Visit Mississippi and it's impossible to ignore the legacy of racism and segregation, and the lack of a vibrant, thriving community of young professionals with plans to put down roots, even though Bryant has recently defended the Magnolia state, lauding its "hospitality,'' and calling for an end to "Mississippi bashing."
Statewide, one of every three children lives in poverty. Nearly three quarters of fourth-graders are struggling readers and public schools are chronically underfunded. State spending is far lower per pupil than its neighbors and test scores are always among the lowest in the U.S. For years, Mississippi was the only state in the south without a publicly funded pre-k; its current program serves only a small portion of students.
No bills meant to improve or provide funding to a problem-plagued private childcare sector have become law while Bryant has been in office. This legislative session, a bill designed to coordinate the multiple agencies that work with childcare centers passed the Senate but died in the House education committee.
---
Mississippi's education advocates are irked that the state's 64th governor believes protecting "religious beliefs,'' matters more than making sure some 490,000 students statewide get the resources and the quality education they need.
---
Bryant's office did not respond to multiple requests from The Hechinger Report for a comment on this and other childcare legislation.
Meanwhile, the state passed a bill that allows adults to carry concealed pistols or revolver for personal protection without government permits or fees, despite opposition.
Last fall, voters narrowly rejected aninitiative that would have provided far more resources to schools. Bryant vehemently opposed it and, after the defeat, national attention died out.
Not so the recent law, which followed North Carolina's passage of a similarly controversial law widely seen as anti-gay.
A Bryant backlash is building among equal rights groups and businesses. The governors of New York and Vermont and the mayor of Seattle have already banned any official travel to Mississippi until the law is repealed. New York's Democratic Governor Andrew Cuomo issued a statement calling it a "sad, hateful,'' measure.
Bryant and other Mississippi Republicans and conservatives maintain that the law protects Christians and others from compromising their religious beliefs in the aftermath of the Supreme Court's marriage equality ruling. Bryant also says the law prevents "government interference in the lives of the people from which all power to the state is derived."
None of this will focus positive attention on Mississippi. The vitriol the law is creating will likely be more hateful than helpful. I can't help wonder how things might be different if state leaders took a more dramatic stand on improving education, where there is nowhere to go but up.
To be fair, Bryant has pushed his own somewhat tepid "reform agenda,'' that calls for ending social promotion, more school choice and boosting standards for new teachers.
But he has yet to address the many other crucial education problems. For example, Mississippi leads the south in black student suspensions and black males are glaringly absent from high school graduations in the state. We've found towns so desolate and bereft no teachers want to live in them. We've discovered that so-called"segregation academies,'' continue to split communities and enroll fewer than two percent of the state's black students.
We've also been buoyed by meeting so many hard-working educators, advocates, parents – people who are pushing hard for change and are fearful of what the law portends. They want to move Mississippi forward.
"Governor Bryant turned back the clock to a dark time in Mississippi's past,'' noted a statement issued by Wade Henderson, president and CEO of the Leadership Conference on Civil and Human Rights.
Mississippi cannot afford to go back.
This story was written by The Hechinger Report, a nonprofit, independent news organization focused on inequality and innovation in education. 
April 11, 2016
The Mississippi State Legislature and Governor Phil Bryant have set Mississippi back to an era that treated some citizens as "less than" with the passage of House Bill 1523, again cloaking the state in a reputation of hate.  The mounting fallout includes bans on official business travel, businesses taking a stand against the bill, and more.  Take a look:
HB 1523: Half 'Redundant,' Half 'Unconstitutional'
Lawmakers call for do-over on religious objections bill
Mississippi tourism industry faces criticism, braces for backlash
Business Backlash Descends on Mississippi
Coca-Cola Latest to seek 'religious freedom' law repeal
Mississippi's LGBT law likely to start 'race to the courthouse'
Companies, local businesses, public figures oppose HB 1523
Civil rights groups mobilize against Mississippi's 'religious freedom' law
Iles, Grisham, Eubanks, Reed, Smith, Stockett, Laymon, Tartt Among 95 Mississippi Writers Opposing Anti-LGBT Law
Robin Roberts on Mississippi Law: Equal Treatment for Everyone
Montel Williams Speak Out Against HB 1523
Help us to continue to populate this page with news sources. Did we miss something? Let us know.
April 11, 2016
With increasing frequency, we are seeing individuals and institutions claiming a right to discriminate—by refusing to provide services to women and LGBT people—based on religious objections. The discrimination takes many forms, including the following:
- Religiously affiliated schools firing women because they became pregnant while not married
- Business owners refusing to provide insurance coverage for contraception for their employees
- Graduate students, training to be social workers, refusing to counsel gay people
- Pharmacies turning away women seeking to fill birth control prescriptions
- Bridal salons, photo studios, and reception halls closing their doors to same-sex couples planning their weddings
While the situations may differ, one thing remains the same: Religion is being used as an excuse to discriminate against and harm others. 
Instances of institutions and individuals claiming a right to discriminate in the name of religion are not new. In the 1960s, we saw objections to laws requiring integration in restaurants because of sincerely held beliefs that God wanted the races to be separate. We saw religiously affiliated universities refuse to admit students who engaged in interracial dating. In those cases, we recognized that requiring integration was not about violating religious liberty; it was about ensuring fairness. It is no different today.
Religious freedom in America means that we all have a right to our religious beliefs, but this does not give us the right to use our religion to discriminate against and impose those beliefs on others who do not share them.