News
November 24, 2015
By Anthony D. Romero, ACLU Executive Director
Fear is toxic to a democracy. Fear divides. Fear overreacts. Fear discriminates. It's a lesson we've learned throughout our history, from the Alien and Sedition Acts of 1798 to the imprisonment of Japanese Americans during World War II to the post-9/11 Patriot Act. And now in the aftermath of the Paris terrorist attacks, we're relearning that lesson again as some of our leaders put forth proposals that would undermine our commitment to a free, pluralistic, compassionate, and open society.
Currently 31 governors are on record opposing resettling any Syrian refugees in their states. These efforts to subvert federal policy would be unconstitutional. Only the federal government has the authority to determine who is allowed to enter the country -- the states do not. And once immigrants are admitted, the states cannot restrict them from settling wherever they choose.
The governors say they worry that terrorists may hide among those who are fleeing the Islamic State and the Assad regime. This is a good argument for a rigorous and multi-layered screening process -- but we already have one. The current U.S. refugee screening system includes background checks by multiple agencies, biometric tests, medical screenings, and in-person interviews with Department of Homeland Security officials.
But that didn't stop the House of Representatives on Thursday from passing a bill that would bring resettlement of Syrian and Iraqi refugees to a grinding halt by adding additional layers of bureaucracy to an already rigorous process. By singling out Syrian and Iraqi refugees, the bill also shamefully discriminates against them based on their national origin, nationality, and religion. If the Senate follows suit and passes the bill, President Obama should veto this callous piece of legislation that will only further fan the flames of Islamophobia inside and outside the country.
Let's remember, too, that most of the Paris attackers were European citizens, and they would not have had to claim to be refugees in order to enter the United States. It makes no sense to close American borders to Syrian and Iraqi refugees -- to deny sanctuary to some of the world's most vulnerable -- because a tiny number of Europeans committed a terrorist attack.
Our country has a long history of sheltering the persecuted. Many of the colonies that eventually became the United States were founded by people who were fleeing religious persecution in Europe. In the late 1970s, we gave refuge to Vietnamese people who fled war in Southeast Asia. In 1980s, we gave refuge to thousands of Cubans who arrived in the United States as part of the Mariel boatlift. In the late 1990s, we gave refuge to those fleeing the Kosovo war. These refugees, and their children, have become Americans. On the whole, this is a history we should be proud of.
Moreover, refugees enrich our society. Our country is stronger because of the energy and talent that millions of refugees have contributed to it. The suggestion that we should deny sanctuary to those who are fleeing persecution loses sight of this.
Current proposals to close our doors to refugees are connected to a deeper undercurrent of prejudice. Some political leaders have called for blanket surveillance of American Muslims, with presidential candidate Donald Trump even going as far asto suggest that American Muslims should be required to carry special cards identifying themselves as Muslims. Trump has also calledfor renewing government surveillance of mosques inside the United States and has suggested that mosques might be shut down altogether. All of this would be unconstitutional as well as stigmatizing, divisive, and unfair.
And though there's never a time for such irresponsible and inaccurate rhetoric, it is particularly dangerous now. On Monday, the FBI released its 2014 report on hate crimes, which found that the number of incidents fell in every victim group except one: Muslims. Calls for discriminatory surveillance and religious profiling will only increase the vulnerability of our American Muslim neighbors and friends. We should not help ISIS drive a wedge between Muslims in the West and the democratic societies they call home. Many first-generation American Muslims, it should be noted, came to America precisely because of the freedoms that some politicians now want to curtail. And Muslims have been part of this nation's fabric since its founding.
It isn't difficult to stand for freedom, compassion, and tolerance in times of relative peace and security. These basic tenets of the American civic faith aren't tested until times like these. But we don't have to give in to hate and fear. We don't have to compromise our beliefs in freedom and equality. Principle can defeat prejudice if we don't lose sight of what matters most: protecting the very values and rights that make us Americans, especially in the most trying of times.
Published on Huffington Post
November 17, 2015
FOR IMMEDIATE RELEASE
CONTACT: Zakiya Summers, 601-354-3408, zsummers@aclu-ms.org
Jackson, MS – ACLU of Mississippi Vice Chairman Jack Williams has issued the following statement on behalf of the organization in response to Governor Bryant's attempt to block Syrian refugees from being placed in Mississippi.
"Although Governor Bryant has the difficult responsibility of protecting his citizens' safety, he should do so while respecting the federal executive branch's responsibility for foreign affairs. He should do so while respecting the federal government's responsibility for setting refugee and asylum policy.
We ask that he learn from hysterias of years past, hysterias that led to the internment of Japanese American citizens and to the exclusion of Jewish refugees from our shores as they fled the tyranny of Nazism. 
The ACLU of Mississippi urges Governor Bryant to welcome Syrian refugees who are fleeing the brutality of ISIS."
November 06, 2015
By Anna Wolfe, The Clarion-Ledger
The Mississippi Supreme Courton Thursday acknowledged the divorce of a same-sex couple under Obergefell v. Hodges, the U.S. Supreme Court ruling that legalized same-sex marriage.
In the process, two justices made claims that states may not have to follow U.S. Supreme Court rulings when they believe the court is creating policy as opposed to interpreting the law.
Five justices agreed with the ruling, consisting of just four paragraphs, that same-sex divorce is legal and should be recognized. Remaining Justices Jess Dickinson, Leslie King, Josiah Coleman and Jim Kitchens objected.
Dickinson acknowledged in his dissent, signed by Coleman, that the U.S. Supreme Court has ruled in favor of same-sex marriage and state Attorney General Jim Hoodhas informed the court that, following Obergefell v. Hodges, he finds Mississippi's ban on same-sex marriage unconstitutional. Dickinson, however, goes on to question whether the U.S. Supreme Court exceeded the authority of its court.
"And while it is true that the Supremacy Clause of the United States Constitutionobligates state courts to follow the United States Supreme Court's constitutional interpretations, even when they disagree with those interpretations, there is substantial support from legal scholars that state courts are not required to recognize as legitimate legal authority a Supreme Court decision that is no way a constitutional interpretation, but rather is a legislative act by a judicial body that is — as Chief Justice Roberts put it — a decision that "has no basis in the Constitution or (United States Supreme Court) precedent," Dickinson writes.
Chief Justice of the United States John Roberts wrote the dissent in Obergefell v. Hodges, which is why Matt Steffey, constitutional law expert and Mississippi College of Law professor, doesn't believe Roberts' opinion can be used for a valid argument.
"A dissent is the opinion of the side that lost," Steffey said.
Steffey said Dickinson is simply saying the U.S. Supreme Court got it wrong. Steffey also said Dickinson's argument is the same one that the Ku Klux Klan, the White Citizens Council and former Gov. Ross Barnett used to oppose Brown v. Board of Education.
"It's exactly the same line of argument considered and rejected by our founding fathers," Steffey said. "I'm talking about the line of thinking where every person gets to decide for themselves what the law means instead of following binding decisions of the court."
In 2013, a judge in DeSoto County prevented Lauren Beth Czekala-Chatham from divorcing her wife, whom she married in California, because of Mississippi's same-sex marriage ban.
Chief Justice William Waller and Justices Michael Randolph, Ann Lamar, Randy Pierceand David Chandler wrote an order in favor of Czekala-Chatham, overturning the Desoto County Chancery Court ruling.
Czekala-Chatham said she hopes to soon be divorced from her wife, who now lives in Arkansas.
"I'm happy this battle has been won. But the war on discrimination is still ongoing," the 53-year-old Hernando resident told The Associated Press on Thursday.
She said searching for a job as a credit analyst has been difficult because potential employers see her involvement in the case.
"This fight has damaged my life in ways I can't recover from," she said.
In Dickinson's dissent, he acknowledges the Chancery Court of DeSoto County's refusal to grant a divorce to the appellant.
Dickinson attempted to prove his argument that the Supreme Court is able to "exceed its authority," with what he called an "absurd hypothetical" about Congress taking all guns from gun owners.
"One example of this view, for instance, is that if the Supreme Court concluded that gun violence impedes the flow of interstate commerce, leading it to interpret theCommerce Clause as granting the Congress the power to confiscate all privately owned guns, who would feel bound to follow it? This absurd hypothetical, some believe, debunks any notion that it is impossible for the Supreme Court to exceed its authority. So in the context of today's case, the question becomes whether it has done so in Obergefell," Dickinson wrote.
November 05, 2015
Only 12 states mandate that school resource officers receive student-specific preparation.
By Mark Keirleber, The Seventy Four | Published on www.theatlantic.com
A high-school girl who refuses to follow school rules is body-slammed to the ground, ripped from her chair, and thrown past rows of desks. The school resource officer's use of force, caught on video, unleashes national outrage and costs him his job.
RELATED STORY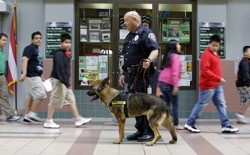 An 8-year-old boy is cuffed above the elbows as a cell phone captures the scuffle. "You can do what we ask you to or you can suffer the consequences," the school resource officer says to the boy in a video that prompted a lawsuit over his use of restraint.
In Irving, Texas, a boy who shows a clock to his science teacher, proud of his ingenuity, finds himself in handcuffs—accused of building a "hoax bomb." 180 miles south in Round Rock, an SRO called to stop a gym fight chokes a 14-year-old boy to the floor.
The police officer "should have been trained well enough to know that this is a 130-pound child," the boy's father tells a local TV station. "The action that was taken was totally unnecessary."
There are about 19,000 sworn police officers stationed in schools nationwide, according to 
U.S. Department of Justice estimates
, and stories about their school-discipline disasters cross Mo Canady's desk all the time.
"The first thing I do is search our database to see 'Did this person come through our training?'" said Canady, the executive director of the National Association of School Resource Officers, which offers specialized training to SROs—primarily on a voluntary basis. "And the answer is consistently 'no.'"
Confrontations between armed police officers and students in schools are becoming more frequent—arrests are up according to an August report for the National Association of State Boards of Education—and more high-profile because of both cell phones and social media. They are also being increasingly scrutinized for bias and alleged brutality in the same way as encounters on the street have become between cops and adult civilians.
These incidents, youth-rights activists and federal officials argue, show that the school resource officers lack the proper training needed to interact effectively with children, especially when they are black, Hispanic, or disabled. The very students, advocates say, are being funneled from the classroom to the courtroom.
"In terms of dealing with students of color, one thing that is super important and one thing we asked (officials) to do is to have training that allows people to understand the unconscious biases for their behavior," said Morgan Craven, the director of the School-to-Prison Pipeline Project at Texas Appleseed. "It can be uncomfortable for people to say 'I am biased against people with color,' but a majority of people in this country, and a majority of teachers, have those biases."
Attempts to crack down on school violence have come at the expense of students of color and those with disabilities, who are disproportionately punished—including through restraint and arrest, U.S. Department of Education data show.
Black students were 16 percent of the total student enrollment in the 2011-12 school year but 27 percent of students referred to law enforcement and 31 percent of students involved in a school-related arrest, according to the U.S. Department of Education Office for Civil Rights data.
Students with disabilities represented about 12 percent of the total student population but accounted for a quarter of those arrested and referred to law enforcement, 75 percent of those who were physically restrained at school and 58 percent of those placed in seclusion or involuntary confinement.
A range of factors may cause variations in student discipline rates, but research suggests racial disparities are not caused by more misbehavior, but because "racial discrimination in school discipline is a real problem."
* * *
Little data has been collected on the level of training officers receive. Only 12 states have laws that specify training requirements for officers deployed to classrooms, and those laws are inconsistent: Some states mandate training on how to respond to an active shooter. Fewer focus on dealing with children differently than adults.
"All officers are getting a certain level of training that they're required to get as police officers," said Nina Salomon, a senior policy analyst at the Council of State Governments Justice Center. "The additional training that we're talking about—on youth development, on working with youth, on prevention and de-escalation—hasn't typically been received by the majority of law enforcement that work with youth inside a school building, or that are called to campus."
Susan Mizner, the disability counsel for the ACLU, said three levels of training could have helped prevent situations like the one in Kentucky where an 8-year-old boy ended up crying and squirming in a chair as the school resource officer demands obedience—handcuffing him above the elbows because the cuffs were too large for his wrists.
"It's your decision to behave this way," the officer is heard saying on the video as the boy complains of pain. "If you want the handcuffs off, you're going to have to behave and ask me nicely."
First, Mizner said, school staff and officers should know the SRO's job is to keep schools safe from a threat, not to engage in routine discipline.
"We can't have that line blurred," she said. "Just because they're there doesn't mean we use them. That's the first level of training, and that's probably the hardest piece of training for both school staff and school resource officers."
But when an officer does become involved, Mizner said, training in de-escalation techniques is the second step. That includes diversion, not direct commands for compliance. And third: training to help recognize students with disabilities.
"School resource officers should understand and expect that they will be called in, primarily, to interact with kids with disabilities because our school systems really haven't learned how to accommodate those disabilities and to work productively with most of these kids," she said, adding that in order to hold authorities accountable for this level of training, it should be required.
"There should be laws that they have, at a minimum, those three types of trainings and policies that go with them," she said. "Many more kids are hurt and traumatized by this than caught in fires in schools each year, so I see it as essential."
On October 9, the U.S. Justice Department issued a 
Statement of Interest
 in the Kentucky case, highlighting the need for SROs to be properly trained "to recognize and respond appropriately to youth behavior that may be a manifestation of disability."
"Appropriate training can help law-enforcement agencies avoid interactions that violate children's rights under federal civil-rights laws, including the ADA (Americans with Disabilities Act)," according to the statement.
* * *
Andre Hill, a police lieutenant in Richmond, California, offers school-specific SRO training through Strategies for Youth, a national organization devoted to improving interactions between police and young people.
Officers are taught about the brain structure and capacity of youth during their adolescence and young adulthood—information that promotes positive interactions and lessens conflict.
"That cuffing technique alone, we would never teach that," Hill said, referring to the Kentucky incident.
Before he was asked to lead the department's youth-services division, Hill said he didn't realize the effect officers can have on kids' lives. He does now.
"Especially in urban schools, kids are hard to reach," he said. "If they're not getting structure at home, they are going to continue to act out, even when confronted by an authority figure."
New policies in Colorado are often touted as a progressive approach. A 2012 revision in the state's education statute set minimum requirements for SROs, so the Colorado Peace Officer Standards and Training Board developed an SRO curriculum. Before then, some departments offered extensive specialized training, others relied on a 90-minute video describing some of the problems they could encounter on the job. Some departments didn't even do that.
Survey results from a 2012 study show most police academies do not teach recruits about research on adolescent psychology and behavior.
In 37 states, police academies spent 1 percent or less of total training hours on juvenile justice issues, according to the study by Strategies for Youth. And while most academies do not teach recruits how to respond to children with mental health, trauma-related and special education-related disorders, only one state—Tennessee—provides specific training for officers deployed to schools. In five states, police academies do not require any training focused specifically on juvenile-justice issues.
Once on the job, about 80 percent of police officers said they receive department-level training in juvenile-justice issues, according to an International Association of Chiefs of
Police survey, and almost 75 percent said they receive training through state-level agencies. However, most officers said they receive fewer than 10 hours of juvenile-justice interview and interrogation training over their entire careers.
Hill is in the process of developing a training model to present to other officers in his California department. For him, training is important, he said, because "we don't want to find ourselves in front of a judge being asked what kind of training is necessary."
* * *
Last year, residents in Columbia, South Carolina approached Strategies for Youth's founder and executive director, Lisa Thurau, with their concerns about the Richland County Sheriff's Department—the same department whose deputy, Ben Fields, was caught on video violently handling the teenage girl who refused to leave her classroom or put away her cell phone. Community members had heard horror stories about officers' use of force, arrests, and suspensions in their schools, Thurau said. They asked for her help.
Strategies for Youth gave the residents a set of training recommendations, which they delivered to the sheriff's department. Recommendations included the nonprofit organization's five-day train-the-trainer program, which uses a police-training coach and a psychologist to teach officers how to train their co-workers. They also recommended a second, three-day session.
The training would have cost the department $75,000, according to the proposal. Thurau said she provided a list of organizations that could help pay for the program but communication between the community members and the sheriff's department fell flat.
"We encounter this in a lot of places. There is no money," she said. "We're increasing the demands on police and doing nothing to support or equip them to be first responders to youth and families' needs."
The conduct of Fields, the Spring Valley High School SRO, horrified many and prompted a criminal civil-rights probe by the Federal Bureau of Investigations and the Justice Department.
Fields "did not follow proper training, did not follow proper procedure when he threw the student across the room," Richland County Sheriff Leon Lott said at a news conference announcing Fields had been fired.
In this case, school officials made the first mistake when they called on a police officer to address a school-discipline incident, said Dennis Parker, the director of the ACLU Racial Justice Program. But once the officer was there, he should have known how to de-escalate the situation without the use of force.
"It would be good to have clear training requirements for all schools and a clear understanding of what the role of school resource officers in schools should be," Parker said. "I think that should be part of an agreement that is entered into between the school resource officers and the school district."
Under South Carolina law, police officers must complete basic training as provided or recognized by the National Association of School Resource Officers or the South Carolina Criminal Justice Academy before they're placed in schools.
But Canady, the NASRO executive director, said SROs in South Carolina, including Fields, don't take his training because his program wasn't approved by a state regulatory commission that certifies SRO training programs in the state.
According to the Strategies for Youth survey, state police academy recruits receive 3.5 hours of training on juvenile-justice issues. This does not include training on youth development and psychology, demographic issues, or cultural influences.
* * *
The Justice Center doesn't see police stepping away from schools any time soon, Salomon, the senior policy analyst, said. So in 2014, the center released more than 60 policy recommendations to help ensure students are in productive classrooms, not courtrooms.
Several training requirements were recommended, starting with knowledge of the school's code of conduct so school officials and police are on the same page. The Justice Center administered the report in coordination with the Supportive School Discipline Initiative launched in 2011 by the U.S. Attorney General and the U.S. Secretary of Education. More than 100 advisers including policymakers, school administrators, teachers, behavioral-health experts, and police collaborated on the recommendations.
"We don't take a position on whether law enforcement should be in school or not," Salomon said. "But if they are going to be in school, as is the case in a lot of jurisdictions around the country, then they need to have the right training, resources, and support to be able to do their job well."
Most members of the National Association of School Resource Officers, which does not cover every cop who works in a school, receive at least some training beyond what is required by police academies or school orientation, according to a Justice Center survey.
Training covers a variety of scenarios, including investigation protocols, active shooters, conflict resolution, addressing trauma, and working with school administrators. Some said they were trained on bullying and suicide prevention.
Canady, the NASRO executive director, gets frustrated when people say there isn't any training available for school-based police officers. His organization has trained school resource officers for more than two decades—but "we only train the ones that come to us."
NASRO, the largest provider of school-based training, instructs about 1,500 officers each year, Canady said. His program teaches officers concepts in law enforcement, and in teaching and informal counseling.
"The SROs should become as if they're a member of the school team, and certainly another trusted adult in the building that certainly is there to protect students, but certainly also to be aware of any criminal issues going on in the schools," Canady said. "They serve a lot of different roles, especially if they're doing the job the proper way."
In the 1990s, Kristen Amundson served as chairwoman of the Fairfax County, Virginia, school board, where she supported the growth of resource officers in her schools. Now as the executive director of the National Association of State Boards of Education, she still does.
If school police are properly trained and employ community-based policing techniques, Amundson said, their presence can be a "gamechanger" in maintaining a positive school culture. The officers' presence helped steer her schools away from criminal activity.
"We never had metal detectors at the doors, we never had to move football games from night to afternoon because it was just a culture of safety, and the SRO was there to be part of it," she said.
However, since school-based police are usually recruited from law enforcement, according to a Justice Policy Institute report, even officers trained by NASRO typically have years of law-enforcement training and only three days of training in counseling and education.
A Los Angeles Police Department detective, Richard Askew, said his time as an educator and as an SRO influenced his understanding of the way children behave and interact with authority.
Before joining the LAPD, Askew worked for two years at a charter school serving at-risk students aged 16-24 who were unable to stay engaged with traditional or alternative methods. Joining LAPD's juvenile narcotics division, Askew was planted in L.A. schools as an undercover investigator.
In 2009, he joined LAPD's mental-evaluation unit, a partnership with the department of mental health to interact with people who struggle from mental-health issues. He also became a Strategies for Youth trainer.
"SROs generally have a pretty big impact on campuses for students because of their authority positions and how they're perceived," Askew said.
Once an officer is selected as an SRO, they receive in-house training on school-district policies and procedures and 40 hours of SRO training from the state police academy, he said. Just a few months ago, all of the department's officers were taught how to avoid implicit bias.
California does have a law setting training requirements for SROs. But until standardized training is required, most of the officers who do seek additional coursework are acting out of common sense, Canady said. Police departments would ensure officers in investigations units are properly trained.
So why not those who work in schools?
"Officers working in schools, just out of the nature of the assignment, are going to become the most well-known police officers or sheriff's deputies in your community, and you'd better have some additional training for them, and you'd better make sure it's the right person," Canady said, "or you're going to wind up potentially giving your department a black eye."
---
This story was produced in collaboration with The74Million.org.
November 05, 2015
By Jason Farrell, Senior Political Correspondent, Sky News
A new app is being launched to help members of the public capture incriminating footage of police confrontations with civilians.
British civil rights campaigners got the idea on a recent visit to California, where they met members of the Black Lives Matter movement, which campaigns against race-related police brutality.
The US version of the app, created by the American Civil Liberties Union (ACLU), is "designed to help people hold the police to account".
It allows people to film the police and send the footage to ACLU where it can be assessed by lawyers.
In California, 170,000 people have downloaded the app since it was launched six months ago.
Demand for the US version of the app has grown
The UK app has been developed by the charities Release and Stop Watch and will also use lawyers to assess footage.
Among the UK activists visiting California was Shaun Hall, the brother of Mark Duggan who was shot dead by police in 2011, sparking the London riots.
Video: APR: Video Of Freddie Gray's Arrest
Mr Hall and the Caravan For Justice group are now looking to promote a similar app called YStop in the UK.
He told Sky News: "I've heard instances where the police have been filmed; they actually go and take the phone and maybe even damage the phone or delete what's been filmed.
"The brilliance of this is that as soon as you press send it is gone."
Ade Johnson, whose brother-in-law Sheku Bayoh died after being restrained by police in Fife in May, said: "Sometimes witnesses are scared to come forward and show the footage that they've got.
"They don't want to go to court and so on. If there is an app that they can use to just forward what they've seen or what they've recorded, we welcome that."
Mobile phone footage of police has caused controversy in the US - notably the relentless beating of Rodney King which was filmed in 1991 and led to riots after the officers involved were acquitted of wrongdoing.
More recently video filmed in April showed the arrest of Freddie Gray in Baltimore as he was dragged into a police van.
He later died of a broken neck and six police officers have been charged in connection with his death.
Baltimore is where the US app is being launched next.
Meredith Curtis, from the Maryland branch of ACLU, told Sky News: "We have had cases in the past where police have seized people's phones and wiped the recordings. This stops that from happening.
"The ACLU stores the videos and our app also prompts you to complete a witness report that can be viewed by our lawyers.
"We have hundreds of activists and concerned citizens wanting to get hold of the app, so they can use it to hold the police accountable."
The Black Lives Matter movement has grown since the shooting of Michael Brown in Ferguson last year.
However, police warn "the Ferguson effect" has led to increased aggression towards officers.
Recent FBI figures show 48,000 police officers were attacked last year, and 51 were killed by offenders.
FBI director James Comey has argued that crime has risen as a result of police becoming more timid.
Murder rates in Baltimore for example are up 56% with over 100 homicides in the last three months.
James Pasco, executive director of the Fraternal Order of Police, told Sky News: "Arresting people is not pretty and if something causes them to hesitate at a point when they ought to be moving instinctively, consistent with their training, then that could have disastrous effects."
November 04, 2015
A Letter from ACLU of Mississippi Executive Director Jennifer Riley-Collins:
At the Jazz Brunch, I told our guest that I was fortunate to lead a team of warriors who stand daily in defense of freedom.  I likened this team to Soldiers who have sworn to protect and defend.  I shared the fact that Soldiers are trained and equipped to be combat ready.  I then distinguished this amazing team from Soldiers - you did not sign up for battle.  And yet here you are on the fighting fields of freedom daily.  I simply want to send this email to say thank you, to commend you and to encourage you. 
I woke this morning, hot spotted myself eager to find out the election results - my heart sank.  I know that on yesterday you heeded the call and all hands were on deck protecting the right to vote and so even more the results of elections may sting a bit.  As a non-profit nonpartisan organization, we are committed to working both sides of the aisle, but there are some whose efforts align more closely with ours and so we are saddened by this outcome. 
As Executive Director of the ACLU of MS, I recognize that our work just became more important.  The work we do may have just become harder, but it is the right work to do.  We must stand in the gap for vulnerable children, especially in schools that are ill equipped to provide education and therefore funnel them into prison.  We must push the envelope on equal protections for all people.  We must ensure criminal justice reforms make social and just sense, not just economic sense, which is the only reason mass incarceration reduction is now the mantra of conservatives.  We must not stand by and feel defeated - there is work yet to be done. 
So this morning, I ask that you breathe deeply, have a cup of coffee, and focus on what lies ahead.  You may not ever see your names in the annals of history (or maybe we will), but know that the work you have chosen to do changes history for others.  Don't feel defeated.  Look at this as an opportunity for determination and say to yourselves and each other, "They may have won this fight, but we will win the war."  You are warriors.  Soldiers fight in defense of freedom.  Warriors fight in defense of the exercise of freedom.  Freedom without the ability to exercise it is futility.  
I am encouraged knowing that each of you has committed himself/herself to making Mississippi better.  Thank you for your bravery.  I salute you.
Jennifer
Make a Donation TODAY to the ACLU and continue to stand on the front lines with us "Because Freedom Can't Protect Itself!"
October 30, 2015
Mr. Bronstein spent the early part of his career as a civil rights lawyer seeking to defy Jim Crow culture, and he later directed the American Civil Liberties Union's National Prison Project for 25 years.
By Sam Roberts, The New York Times
Alvin Bronstein, who wielded class ­action lawsuits like a cudgel to protect America's expanding prison population from abusive conditions, died on Saturday in Centreville, Md. He was 87.
The cause was complications of Alzheimer's disease, said Jan Elvin, his wife and a collaborator on the American Civil Liberties Union's National Prison Project, which Mr. Bronstein directed for 25 years.
Mr. Bronstein came to the cause of civil rights with a deep distrust of state authority, imbued in him by his immigrant father's accounts of Russian pogroms and his own revulsion over the Holocaust as a teenager.
Early in his career he carried the fight to the Deep South as a civil rights lawyer in the mid­1960s, when defying the Jim Crow culture was dangerous for blacks and their advocates.
It was the bloody 1971 riots over conditions at the Attica Correctional Facility in western New York that inspired him to challenge brutality and overcrowding in the correctional system. At the time, much of the nation was demanding harsher punishment and more prisons in response to rising crime, feeding the growth of what Mr. Bronstein identified early on as the "correctional­industrial complex."
"Al was responsible for almost all of the major prison reform class­action lawsuits around the country during the '70s, '80s and early '90s," said Michele Deitch, a former colleague who teaches at the University of Texas at Austin School of Law.
"His efforts played a pivotal role when it came to the humane treatment of prisoners and the transformation of prisons and jails from brutal, lawless institutions to places governed by the Constitution," she said.
Mr. Bronstein had many victories. In 1966, he won $1,500 in damages from a deputy sheriff for a woman who had been beaten with a blackjack in a Mississippi jail. The decision was described as the first time a Deep South law enforcement official was ordered to pay reparations for abusing a black person.
In the early 1970s, his litigation against an overcrowded Alabama prison system — inmates were sleeping atop urinal troughs in some places — resulted in groundbreaking minimum standards.
In Rhode Island, in 1977, Mr. Bronstein filed a class­action suit challenging unsanitary conditions, inadequate medical care and intolerable violence in the prison system there. In response, a federal judge threatened to close the state's correctional facilities unless they complied with the Constitution's Eighth Amendment prohibition against "cruel and unusual punishment."
In Virginia, in 1979, Mr. Bronstein represented a prisoner who sued over improper medical treatment in the state correctional system. The prisoner said he had been permanently paralyzed when fellow inmates, who had been assigned to the prison hospital, administered excessive doses of an antipsychotic drug to him; at the time, he said, he had been distraught over being denied parole.
The prisoner won $518,000 in damages. The award was said to have been the largest ever obtained by a prison inmate in America.
Mr. Bronstein was also involved in a prison civil rights case before the United States Supreme Court in 1992. The court had been asked to decide whether corrections officials could be held liable if they were aware that a prisoner was at "substantial risk of serious harm" from other inmates but failed to protect him.
The plaintiff had prepared the briefs himself but could not argue his case personally because he was serving a 20­year sentence for armed robbery. Mr. Bronstein did, and won.
Litigation was only the beginning of his legacy. Working through Penal Reform International, a nonprofit advocacy group (he was instrumental in its founding), he also collaborated with progressive prison officials, both in the United States and abroad, to carry out improvements and monitor them. In addition, he joined them in advocating for alternatives to incarceration and for more vocational and educational programs for inmates.
"It is commonplace now, though not yet implemented everywhere, to accept that prisons have to be lawful places and that those detained in them have rights," said Baroness Vivien Stern, a former secretary general of Penal Reform International. "Al played a large part in bringing about that acceptance." Mr. Bronstein co-­wrote or edited more than a dozen books. In 1989, he won a $360,000 MacArthur Foundation prize, the so­-called genius award.
In an interview with The Philadelphia Inquirer in 1995, Mr. Bronstein said, "As we began to see real change in the rights of black Americans, partly as a result of legal work, a number of us began to realize that the next powerless group were prisoners."
"There was a logical extension from the civil rights movement to the prisoners' rights movement," he said — just as there was from his upbringing to his commitment to constitutional law.
Alvin J. Bronstein (the middle initial did not stand for anything) was born in Brooklyn on June 8, 1928. His father, Louis, was a pharmaceutical salesman. His mother, the former Lillian Spielman, was a saleswoman in a store.
His immigrant family's experience of escaping the persecution of Jews in Russia and his hearing about Nazi atrocities during World War II as he grew up fostered in him "a deep distrust of state power," as he described it. The lawyer Clarence Darrow was his hero.
He graduated from Erasmus Hall High School in Brooklyn, studied at City College of New York and earned a degree from New York Law School.
Uninspired by practicing in his uncle's law office, Mr. Bronstein in 1964 enlisted in the A.C.L.U.'s Freedom Summer drive for volunteers to help register African-­Americans to vote in Mississippi. He went on to direct the Lawyers Constitutional Defense Committee, an A.C.L.U. arm established that summer to help the civil rights movement in day-­to-day legal matters.
In addition to Ms. Elvin, his wife, he is survived by four daughters, Lisa Snitzer, Susie Renner, Laura Zatta and Sarah Bronstein; a son, Benjamin Bronstein; and seven grandchildren.
"What drives me is protecting individual rights against the excesses of state power," Mr. Bronstein told The Inquirer. "This is what the Bill of Rights is all about — government can't conduct unreasonable searches, it has to follow due process, it must allow free speech and assembly, it can't impose cruel and unusual punishments.
"For a society to have meaningful individual rights," he added, "it has to protect them for the least desirable element in society."
October 27, 2015
A South Carolina sheriff's deputy attacked a high school student as classmates watched in horror, video revealed. The ACLU of MS has been asking Mississippi to avoid this type of situation for several years.
By Alfred Ng, New York Daily News
A South Carolina sheriff's deputy has been pulled from the school where he worked as a resource officer after video showed him slamming a student to the ground while classmates watched in horror.
Deputy Ben Fields was caught on camera at Spring Valley High School in Columbia ordering a student out of her seat. The imposing officer, who is a powerlifter in his free time, stands over her desk and tells the student, "either you're coming with me or I'll make you." Without giving her time to get up, he grabs her and flips her over, slamming her, and her desk, onto the ground.
FACEBOOK: A school resource officer at Spring Valley High School in S.C. is seen on video in a confrontation with a female student who allegedly refused to leave the classroom.
The veteran officer then drags her out of her chair and tossed her across the room, as students watched speechlessly. The deputy pinned the senior student down as he puts her hands behind her back. He tells another student, "I'll put you in jail next."
FACEBOOK
FACEBOOK: The officer flipped her over and then tossed her across the room during the arrest, the video showed.
The female student was not injured and was later released to her parents, cops said.
Students said the officer has had a history of roughing up students.
Fields is listed on the Richland County sheriff's department's website as a senior deputy assigned to Spring Valley High School. On his now-deleted Twitter page, he described himself as football coach for the school's defensive line, and a strength coach.
Richland County Sheriff Leon Lott said he'd seen the video and found it "disturbing." Lt. Curtis Wilson said the deputy was removed from the school and placed on administrative duty while investigators look into the attack. He said school resource officers are always held to a higher standard of investigation because they're meant to protect students.
"The video is going to be helpful because it shows us what happened," Wilson said.
Officials are looking into what happened before the violent arrest happened, cops said. Police said the student was under arrest for refusing to the leave the classroom after being disruptive.
The school's superintendent Dr. Debbie Hamm said in a statement that the video was deeply concerning.
"Student safety is and always will be the district's top priority," Hamm said. "The district will not tolerate any actions that jeopardize the safety of our students."
The school district is aiding the sheriff's department in its investigation.
The shocking video drew condemnation from the Rev. Jesse Jackson, who tweeted that Fields "should be fired and the police department should be sued."
Fields, known to some students as "The Incredible Hulk" for his massive build, has been accused of rough arrest in the past. He was sued in 2007 after a couple accused him of manhandling them during a 2005 arrest.
Fields emptied a can of pepper spray on Carlos Martin, who parked next to him, according to court documents. The two started arguing after Martin allegedly played his music loudly, court documents showed. Fields arrested him for breach of peace.
During that arrest, Martin's wife, Tashiana, took photos of the arrest, but Fields had his partner take her phone. She said the deputies threw her against a car and arrested her as well.
The couple sued the officer for illegal seizure, false arrest, excessive force and battery. The sheriff's deputy claimed Tashiana ran toward the two officers swinging her arms while attempting to kick an officer in the head, according to court records. She denied the officer's allegations.
Martin said deputy Fields had kneed him several times after slamming him on the ground. Court documents said he suffered from post traumatic stress disorder after the arrest.
We Copwatch, an activist group that claimed to be Anonymous on Twitter, said the school had its attention after the video went viral online.
The school has 2,010 students enrolled. The school said 52% of its students are African American and 30% are white.
October 21, 2015
Today the ACLU filed a lawsuit on behalf of  poor people who were jailed by Biloxi, Mississippi, because of their failure to pay traffic tickets. The lawsuit is the latest action in the pushback against the national problem of modern day debtors' prisons, where people are required to go to jail when they can't afford to pay the tickets or fines. Two of our clients explain how being sent to prison for small fines and fees can dramatically alter people's lives for the worse without any public benefit.  Read their accounts below.
Qumotria Kennedy
I was a passenger in a car with a friend one day in July when a police officer pulled us over. The officer ran my name for warrants, made me step out of the car, and put handcuffs on me.
From there he took me to the Biloxi police station and then to jail. At the police station, they told me I would have had to pay $1,001 in cash to get out. That was what I owed in traffic fines and fees that I hadn't been able to pay. They didn't bring me to court, give me a lawyer, or even tell me that I had a right to one. 
I didn't have the money. I was sad, upset, and crying. I'm a single mom, so I knew I'd have to be in jail and leave my daughter with my friend. My daughter didn't even know where I was or what happened for an entire night.
No one told me how long I'd be in jail. Each day, I was wondering when I would see my daughter or be brought to court. In the end, I was locked up five days.
When I was in jail, I lost my part-time job. Now I'm just on call as a cleaning person, so I only go to work once or twice a week. I'm struggling on so little.
Now they want me to pay hundreds of dollars a month for my fines and fees. But I just don't have the money. I asked the probation officer if I could do community service instead, but she said there was nothing she could do.
I owe so much money that I can't pay. Every day, I worry that I could get arrested and sent back to jail. 
I decided to bring a lawsuit against Biloxi because I don't like what the city is doing to people. All it cares about is money. Biloxi locked me up for being poor. But it costs them money to keep me in jail. So this system doesn't even make any sense.
I hope that everybody knows that the system is trampling on poor people, and it's not fair.
Joseph Anderson
When I got a $200 traffic ticket, I knew I wouldn't be able to pay it. I made a payment or two from my disability checks, but I was living on so little, I couldn't pay any more. The Biloxi police issued a warrant on me, but I didn't know. The police knocked on my door, reached inside, and grabbed me.
My stepson was there, and it felt embarrassing. I felt ashamed because I was always preaching to him about staying out of trouble and here is this police officer who knocks on my door, handcuffs me, and arrests me.
When he put handcuffs on me, it really hurt. My health was really bad. Just a few years before, I had multiple heart attacks and a stroke in just a couple of months.
When Biloxi police arrested me for fines and fees, I wasn't well. After the heart attacks and stroke, I became physically disabled. I can't work because my mobility and strength are not what they used to be. Before, I was working at Best Western doing maintenance and mechanic work. Now I'm just living one day at a time. 
I get my Social Security check and pay my bills, and what I have left of that I try to buy gas. It's hard making ends meet.
When the police took me to jail, they said I could pay $220 in cash for my release. I felt bad because I didn't have anyone to call who could lend or give me the money. I had just gotten off walking on my crutch, and I really wasn't functioning right. The food was disgusting. There was a blanket with holes in. They kept me in jail for seven nights.
Do I want to help other people by suing Biloxi? Heck yeah. It's terrible here. I'm not afraid to go public with how the city is trying to get money from people who just don't have it.
I hope this lawsuit will help make the system better. I hope people don't get arrested and jailed for back fines like I did. 
October 21, 2015
FOR IMMEDIATE RELEASE
October 21, 2015

CONTACT: Inga Sarda-Sorensen, 212-284-7347, isarda-sorensen@aclu.org

BILOXI, Miss. — In the latest pushback against the national scourge of debtors' prisons, the American Civil Liberties Union filed a federal lawsuit challenging the illegal arrest and jailing of poor people in Biloxi, Mississippi, without a hearing or representation by counsel. Victims are told they can avoid jail only if they pay the entire amount of outstanding court fines and fees up front, in full, and in cash.

"It's essentially a jailhouse shakedown. Cities across the country, like Biloxi, are scrambling to generate revenue, and they're doing it off the backs of poor people," said Nusrat Choudhury, an attorney with the ACLU's Racial Justice Program. "Being poor is not a crime. Yet across America, people are being locked up because they can't afford to pay traffic fines and fees. This lawsuit seeks to dismantle a two-tiered system of justice that punishes the poorest, particularly people of color, more harshly than those with means in flagrant violation of the Constitution."

Today's filing follows a similar ACLU lawsuit brought earlier this month in Washington state, as well as a recent ACLU lawsuit in Georgia that led to systemic reform. Defendants are the city of Biloxi, Biloxi Police Chief John Miller, Judge James Steele, and for-profit Judicial Correction Services, Inc.

The percentage of people living in poverty in Biloxi has doubled since 2009. Yet during this period, the city, through the Biloxi Municipal Court, has aggressively pursued court fines and fee payments from indigent people by issuing warrants when payments are missed. The warrants charge debtors with failure to pay, order their arrest and jailing in the Harrison County Adult Detention Center, and explicitly state that debtors can avoid jail only if they pay the full amount of fines and fees in cash.

"It's like squeezing water from a stone," said Choudhury.